The Community Emergency Response Team (CERT) program teaches people to assist others following a disaster when professional responders are not available.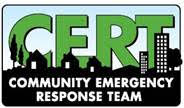 Topics include:
*Disaster Awareness       *Search and Rescue         *Splinting Fractures
*Triage                               *Treating Shock                 *Transporting Victims
*CERT Organization         *Damage Assessment      *Incident Command
*Fire Suppression            *Hazardous Materials       *Terrorism Awareness
*Medical Skills                   *Disaster Psychology       *Disaster Communications
Each class provides hands on skills practice!
Location
All classes (except the mock disaster)  are taught at SDMF Fire Station 81, 255 South 100 West, Bountiful
Cost $40
Includes instruction, training materials, CERT book, CERT hard hat, CERT vest and more.
REGISTRATION FOR Spring 2018 CLASS IS OPEN!
Wednesday Evenings:  Feb. 14, 21, 28, Mar. 7, 14, 21, 28, Apr. 11.   
Or
Thursday Evenings: Feb. 15, 22, Mar. 1, 8, 15, 22, 29, Apr. 12.
6:30-9:30pm
Two classes taught concurrently allows some scheduling flexibility.  You can attend either class and switch from week to week.
Both classes: Practical Mock Disaster, Saturday, April 14, 9am-noon.
Call 801-677-2400 to register

Want to learn more about CERT?
CERT Basic Training Manual  This is the text book for CERT class
CERT in Action Video This video shows what CERTs are trained to do.
CERT Hazzard Annex  A manual of information on responding to specific types of disasters such as earthquakes, winter storms, flooding and landslides.
Have more questions about our CERT classes?  Email  the Course Coordinator, CERTclasses@bountifulutah.gov.